The Developer's Apple Mac – Swinny.net
Everybody knows that Mac OS/X is essentially Linux under the hood, but how does it stack up as a development platform? Does it make up for the scripting and package limitations of Microsoft Windows, or are all the goodies hidden away and out of reach? Furthermore, does it give the programmer/developer a comfortable and stable environment to work in?
System Resource Monitor
There is a rather neat system monitoring tool, Magician Monitor, which is free to download and gives a handy view on how much network, CPU and disk you're consuming – as well as temperatures of the core components.
It docks handily in the bottom right of the screen, displaying a live view of your choice metric, and hovering over it shows all of the other information. If this sounds like a useful thing for you, download it from magicansoft.com1.
However, it turns out that there's a built-in monitor, Activity Monitor, easily found from the Spotlight tool. It is a full-windowed app, showing process information as well as graphs of the key system data.
You also have the option of turning the app's dock icon into a live graph of your choice metric. There is also an optional CPU graph that you can have planted on the desktop. The app doesn't provide temperature information, but otherwise does everything that Magician Monitor does.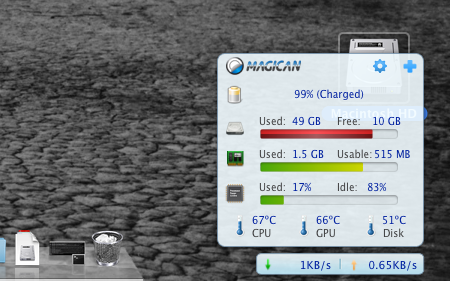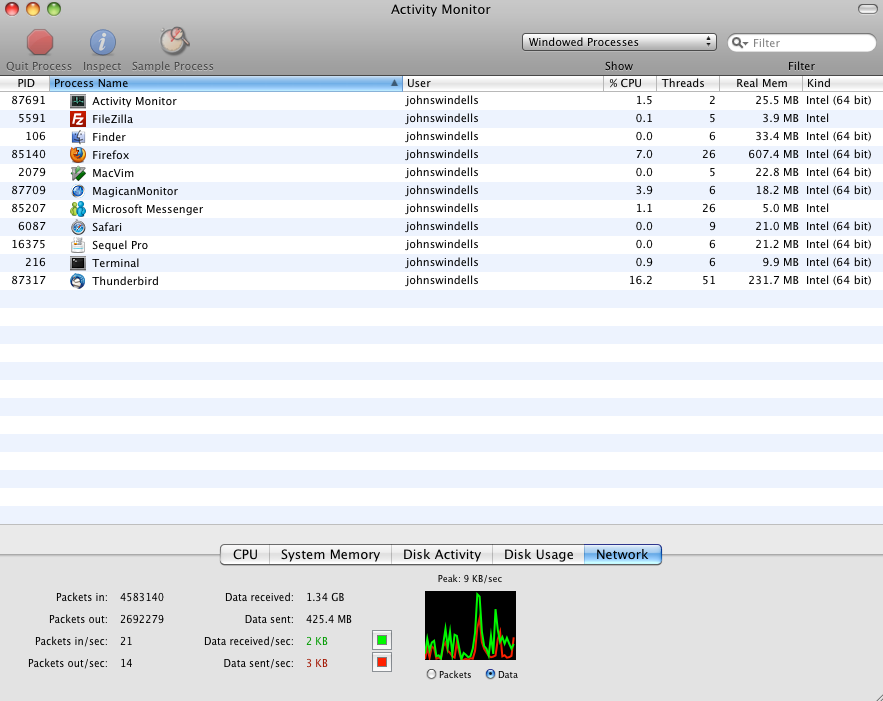 It's quiet in here…Add your comment
2
The LinkedIn API
Strava
Using the Strava v3 API!
(more)8
Using various criteria to determine which companies are the best!
Performance Programme
This is my plan and diary for a structured, quality year of competitive cycling in 2015.
The plan consists of target events and training schedule; the diary breaks down a recent run of play, with some attempt at analysis … (more)12
Tour de France 2012
Dan and I flew down to Lourdes with our road bikes to hit some cols and watch some TDF action. We've broken the trip down day by day below, but here's a playlist of all the videos:
John Swindells
I am a career professional in software development, becoming proficient in various systems and languages since 1992. In recent years I have been especially active in web and mobile app projects.
I stepped down in April … (more)16
The under-10, under-12 and youth races were played out as individual races, so not as a team. The vet50+ and women riders rode a lucky dip madison though, as did the 40-49 vets with the seniors and juniors. Snow and sleet featured throughout … (more)18
One time that the cats don't fight is when they're being fed – although they do have a strict pecking order.
Claudius has first go, followed by Nero, and finally Kubrick gets his turn. None of them eat very much in one go, so there's always … (more)20
It's a trip to the North Norfolk coast for the third round, as it is an afternoon event at the Pedal Norfolk Cycling Festival in the grounds of Holkham Hall. For more information, see norfolkcross.com.
Mark Florence had the honour of interviewing top GB time triallist Matt Bottrill.
Bottrill is 37, got into time trialling in 1998, started winning at the national level in 2000, and in 2014 won the national 10, 25 and 50 mile competitions … (more)24
Set on back roads, the course heads west from Risby and runs clockwise – staying north of the A14. More info on the CTT website.
A circular time trial in the south of Lavenham, heading south through Gt Waldingfield and east through Boxford, clipping the edge of Hadleigh before the return leg through Monks Eleigh and Brent Eleigh. It's known as the "Mad March Hilly … (more)28
At Eccles School near Snetterton, the event is hosted in association with Push Sports.
It's a popular MTB venue so should have lots of technical challenges.
For more information, see norfolkcross.com.
This Saturday afternoon event is run on the sporting BS33 course at Debenham, heading south and then west along the A1120 before going up to Occold and back south again.
More info on the stowcc.com website and on the CTT website.
(more)32
References